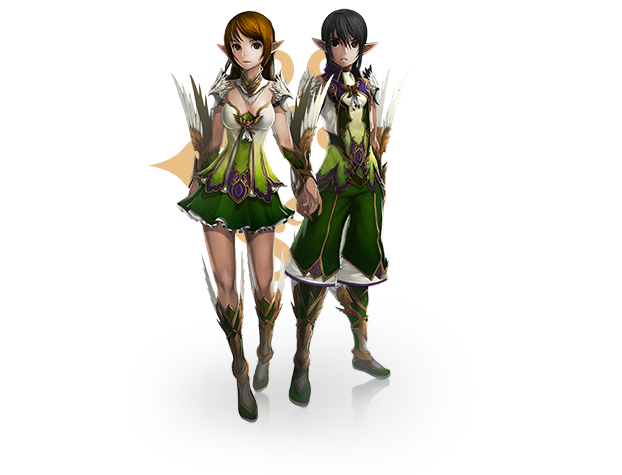 *Some of the information that will follow has been acquired from FiestaWiki*

How about we start with the different classes that the Archer has?:

Archer

Hawk Archer

Scout

Sharpshooter/Ranger

Here are the different type of weapons that you will have access to:
Bows- Faster but less damage.
Crossbows- Slower but more damage.

Archers have naturally high evasion, so getting gear with extra DEX is a good way to add even more evasion to your character. STR can also be useful to an archer, especially one who is using a bow. SPR is somewhat useful to archers as it increases their critical hit rate, making them more likely to do more damage before the enemy even gets to them. It also increases their Mag. Defense, which is good because most magic attacks are long-ranged. END can be useful to some archers but most have high DEX and can dodge better than they can take a hit. Not a waste but not critically needed either. INT is that one stat that the archer does not want anything to do with.
Here are the current different Builds:
25 SPR/Rest STR- It is important to get the initial 25 SPR (which takes from level 1-20 to get). Why? Because it gives you a good 5% crit rate on top of your weapon, as well as extra Mag Def and SP. Now, after level 20, you can do whatever you want, but it is recommended you go with STR, for better attacking power. It adds up later on.
Pure SPR- This build is controversial: You get an amazing amount of SP, crit, and good MDef, but on the other hand you lack some of the power of your STR build brethern. If you can afford equips to make up what you will lack, then you should consider taking this build.
Pure STR- Like the build above, this could be a controversial build as it makes your archer a good damage-dealer but unless you get DEX and SPR from your armor, you will die easily if the enemy gets to you.
25 SPR/33 DEX/Rest STR- A hybrid build that allows you some breathing room at higher levels thanks to the DEX but also good amount of damage thanks to the STR. With the extra SPR, you will have a better chance of getting a critical hit.
Note: SPR is very useful to archers and adding more may help. Sprinkling some SPR in any of these builds (except the ones that already have it) will help you out but is not neccessary.
Tips and other useful information:
Kiting
Kiting is basically a hit-and-run technique. Just attack a mob, and keep hitting it. If he gets too close, then run away at a safe distance, and hit the monster again. Repeat this technique until the monster is down. Then run until your spells have recharged and attack the monster again.
Another version of kiting is when you hit a monster, and then while you are running, you use the immediate cast effects like poison and bleeding, which allow you to keep running. This is effective when you are low on HP or soloing.
How to Lure
Luring, a hunting tactic which involves separating a monster from it's mob (group of similar monsters or mix of multiple types) to prevent mobbing (several monsters attacking the player/s) is an effective tactic in both solo hunting (to prevent mobs from mobbing you) or party hunting (so the party can focus on one target and prevent player death by mobbing.
Luring can be done with the following: a bow/crossbow to enable attacking from a safe distance which will prevent mobs from forming, the Nature's Protection skill which will prevent monsters from attacking you (or, at least, remove it's attention away from you), a good party consisting of at least one tank or more (the damage takers, usually Fighters or Clerics), one or more healers/supporters (Cleric), damage dealers (Archers, Mages, Clerics and Fighters who have damage based skill and stat builds), and any other player type necessary for the hunt, HP/SP stones or potions, and scrolls or a Cleric who has powerful buffs (optional, but recommended in higher level areas)
First find a good spot for your team to rest, preferably somewhere where enemies don't spawn, but are near to where they do so the player/s who will lure (an Archer/s) can lure easily. Once you've done that its time to select your victim, a monster that has strayed from their group and is now near your party.
Make sure your party is ready, then shoot your target with a normal shot, to provide less aggro (attention from the monster which will lead you to becoming a target (note: if your party is high leveled then you can do a poison shot, bleed, or any other damage-over-time spell to provide extra damage).
As soon as you have shot run back to your party with the monster following suit. By now, the main Tanker (who should use Snearing Kick or any variation of Taunt) to attract the monster to them and not the other members of the party but immediately use Nature's Protection to destroy any aggro the monster has against you. Now that the enemy is fighting your party its time to step in and deal as much damage possible with poison or any other damaging skills.
Aggro
Every monster has aggro. Basically, aggro (meaning aggravation) determines which Player a monster will attack. The more you attack a monster, the more aggro it will have against you, until it reaches a maximum. Assume that the maximum aggro a monster can have is 99, in which case it will come after you and attack you until you die, or until you run long enough for it to get bored (which is a very long time). This means that you probably have to fight the monster, or lower it's aggro somehow, which is where your level 20 questable skill comes in.
Using natures protection puts the enemies aggro toward you at 1 making you the lowest threat possible.
When a fighter uses Taunt they gain a lot of aggro. See a connection here? By using nature's protection, you can successfully party without becoming the main target, since as an archer you will tend to do more damage than fighters, therefore pulling aggro off of them.
*If you guys have any additional information on regards to skill points with different builds or simply any other information that could be useful to this guide, Please leave a comment and it will be my pleasure to apply all the necessary modifications! The Wiki guide was quite empty (so is this one) So let's add all the up to date information that we can!!