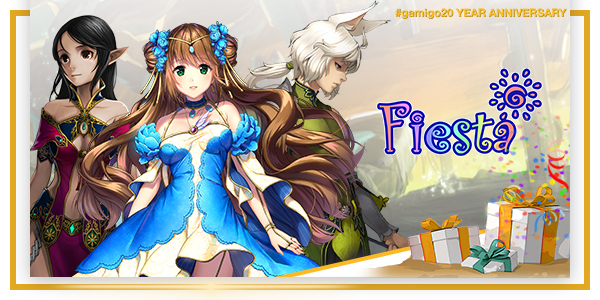 Happy anniversary Gamigo!
Here is to 4 weeks of surprises and parties!
There is a lot of achievements in life but only a select few can successfully say they have enjoyed them for 20 years! We are so ecstatic for this accomplishment that we want to make sure you all can enjoy it with us!
What better way to do that, than with rewards and parties for a whole month!
Having a perfect party its not a easy task, but we are up to the challenge and hope you can help us along the way!
We will need:
1- The perfect venue
2- Clean up!
3- Delicious food
4- The best performance and entertainment in all Fiesta!
If you can successfully follow what we need you will be able to participate in the planning of our wonderful anniversary here at gamigo and reap the rewards!
Below you will find all the information for participating in this celebration as well as the rules:
- 10,000 Anniversary points will be distributed among all participants in all versions.
- For each valid participation you will receive at least 500 Anniversary points.
- Each player can only participate once per event
- Screenshots taken must show everything that is mentioned in the list.
- You should not edit or manipulate screenshots to achieve the goal of the events.
- Name of character and game version of the account on which you want to receive your points must be given.
- You may use your screenshot (the character's name does not have to appear on your social media screenshot, but remains mandatory on the forum) to participate in the event once, which will also take place simultaneously in our social media: Facebook, Twitter and Instagram. Please note that in addition to the forum event you can only participate on one other social media platform!
- Any violation to the rules or general rules of all events will automatically disqualify you.
To make the perfect party you will need specific adventures through out the 4 weeks of fun.
They are:
Week 1: Perfect Location! (October 1st to October 7th) (click)
Week 2: Clean the perfect place! ( October 8th to October 14th)
Week 3: Delicious food! (October 15th to October 21st)
Week 4: Decorations and perfect entertainment! ( October 22 to October 28)
Bring out your friends and get your fun mode on, the party has just begun!
Have fun and good luck! You will reap the great rewards!
Best Wishes
Your Fiesta Online Team.