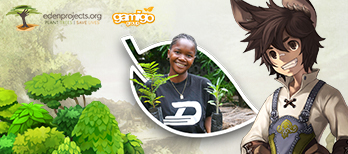 Let's all celebrate the beginning of spring together with the Eden Reforestation Project!
Gamigo is starting the #gamigotrees movement together with the Eden Reforestation Project and on this occasion it's time to celebrate with us at this event!
The Fiesta Online NPCs are also active and do everything they can to preserve our beautiful forests and landscapes!
They try to stop trees from falling as much as possible, but have noticed something peculiar about the falling leaves. It's Spring and they still keep falling down. Not even super glue is helping!? Who is at the head of this whole organization to make leaves falling down in Fiesta Online?
Combine the correct leaves and find out the name and location of the Head of the Organisation.
Then go visit them in the game and take a screenshot of them.
The screenshot must absolutely show the location, monster/npc, their name, your character and your character name!
Post your screenshot until April 9th, 2020 at 14:59 PT/21:59 UTC/23:59 CEST in this thread and you have the chance to win nice prizes!
Please also add to your posting if you prefer event points or a premium reward.
Conditions of Participation:
The general rules apply to this event.
You can only participate once per forum account and player.
You must indicate your character name, server name and post your answer including the screenshot showing your character, your character name, the NPC/monster and it's name in the post of participation.
Your screenshot may not be modified/edited.
The deadline for general participation in the event is April 9, 2020 at 14:59 PT/21:59 UTC/23:59 CEST.
The decisions of the team members are final.
Eden Reforestation Projects are actively combating the climate crisis as they restore forest systems one tree at a time, alleviating the devastating effects of deforestation. And every tree planted serves to protect, provide, nurture and sustain all of life.
But the work done by Eden Reforestation Projects also rebuilds communities. Fair wages and a commitment to skill-building and employment for women and single parents helps keep farmers from selling themselves or their families into slavery just to survive.
Find more infos about the project here:
#gamigotrees - Help us make a difference in this world!
Save our trees in Fiesta Online!
Good luck to you all!
Your Fiesta Online Team